Who Is Jesus
Let's start at the beginning to see who is Jesus?  Right from the first verse in the verse chapter of the Bible it says "In the beginning God created the heavens and the earth."   In Hebrew the word is elohiym.  This is the plural form of God.  The Bible can't say Gods because there is only one God. So this is talking about God the Father, God the Son, and God the Holy Spirit.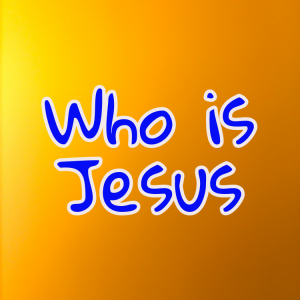 This whole book, The Bible, is about Jesus.   To verify that Jesus is being talked about we go to John 1:1 In the beginning was the Word, and the Word was with God, and the Word was God.
If you read the rest of the chapter it talks about the Word being Jesus. From this you can see that Jesus was  and is God, He existed before time began. Jesus is God and co-creator of the world.
Jesus also appears throughout the Old Testament and is prophesied to be born. Jesus Christ didn't just hang out for thousands of years in heaven.  He appeared to people in bodily form before His conception as a baby.
First Jesus appears to Sarah's maidservant Haggar  in Genesis 16.  He was called "Angel of the LORD".  From that point He made brief appearances in audible and visible form.   Jesus delivered news and instructions to those he met. He came to help His people when He appeared in the flesh.  It was grace that was being carried out.
Then throughout the Old Testament Jesus Christ is prophesied about.  There are psalms that are called Messianic Psalms.
Psalm 2:7 I will tell of the decree:
The Lord said to me, "You are my Son;
today I have begotten you.
Psalm 16:10 For you will not abandon my soul to Sheol,
or let your holy one see corruption.
These are just a couple of examples.
Then you can see it in Isaiah.   Isaiah 53:3-6
He was despised and rejected by men;
a man of sorrows, and acquainted with grief;
and as one from whom men hide their faces
he was despised, and we esteemed him not.
Surely he has borne our griefs
and carried our sorrows;
yet we esteemed him stricken,
smitten by God, and afflicted.
But he was pierced for our transgressions;
he was crushed for our iniquities;
upon him was the chastisement that brought us peace,
and with his wounds we are healed.
All we like sheep have gone astray;
we have turned—every one—to his own way;
and the Lord has laid on him
the iniquity of us all.
Jesus is
The one whose blood gives us life in heaven
The one who created everything
The one whose word holds up the world
The one who intercedes for us in heaven
The one whose blood makes us perfect and righteous in the sight of God
The King of kings
The Great I Am
The Lamb of God
The Bread of Life
Lord
The Alpha and The Omega – The First and The Last
My Servant the Branch
The Christ
The True Light
Lord over all
The Last Adam
Apostle
High Priest
Redeemer
Rabbi
Who cares about His names and titles?
He has many titles because He is many things to us.  We have a problem and try to fit God and Jesus into the box in our minds.   But He is more than we can imagine.
If you watched Undercover Boss and saw someone fire the CEO or President of the company they feel bad.  However if it was Undercover Data Entry Person and they fired them they wouldn't feel so bad or afraid.
Most workers feel that respect is due to the president of a company or owner. The owner created a company and has given you work to feed your family, to enjoy life.
Jesus in turn has given us life - he is our creator.
Jesus has
Love
Compassion
Power
Wisdom
Authority
Access
Humility
Jesus Christ gave us
Authority
Access
Eternal life
Peace
Joy
Freedom
Hope
Rest
Redemption
Wisdom
What Does This Mean?
All of His sacrifices, titles and qualities mean nothing if there is no love.  What if your dad loved you and was willing sacrificed his time and money for you? In addition what if your dad was Super Bowl MVP , then coach of the year then president of the country?  Then you rejected everything he was willing to do for you.
All of his influence, power, and love couldn't help you when you rejected him.
Same goes for not accepting Jesus for who he is and what he has done for you.  The choice is ours to love him and accept him or to reject him.
2 Corinthians 4:3-4 If our Message is obscure to anyone, it's not because we're holding back in any way. No, it's because these other people are looking or going the wrong way and refuse to give it serious attention. All they have eyes for is the fashionable god of darkness. They think he can give them what they want, and that they won't have to bother believing a Truth they can't see. They're stone-blind to the dayspring brightness of the Message that shines with Christ, who gives us the best picture of God we'll ever get.
God has taken care of the faith part as it is a gift from God.  God has taken care of our salvation.
We have to make a decision to use our faith (a gift from God)
To follow Jesus.
To decide the devil lies, kills and destroys.
That God has a better way and gives us power to walk in the light.
That we will have peace and joy when we follow Jesus.
I hope this has answered some of your question on who is Jesus and why getting to know who is Jesus Christ can change your life.