Strive for Excellence?
I read a comment on a blog post and it talked about striving. Are we striving to stay alive? Do we strive for excellence? Striving to get closer to God?  That got me to thinking "Should we strive or should we rest in Jesus?"
Well I found that the question is not a good question.  It leads to a wrong conclusion and we should be aware of the questions we ask and the question others ask. That is another blog posts about logical fallacies which we won't discuss here.
I believe we should strive for excellence and we should rest in Jesus. Striving for excellence is an attitude.
Excellence is not perfection.  Striving for excellence is about giving 100% of your talents, energy and thoughts to doing it.  Yes some people will be more talented, stronger, better or another comparative adjective then we are. It doesn't mean they will be excellent.
Not Perfection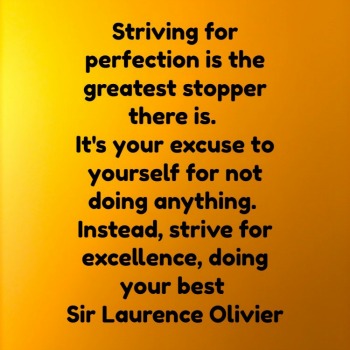 I like to watch Shark Tank and Mark Cuban says perfection is the enemy of the entrepreneur.  If Henry Ford wanted to build a perfect car there would have been no Model A and no Ford Motor Company.  I worked in the computer lab in college and this guy was building a game similar to "Name That Tune".  He spent hours and hours every week trying to perfect it.
It was the 80s and the Apple II was out and IBM was coming out with a portable computer that seemed like it weighed 25 pounds.  However, he never got it off the ground and out of his computer and onto others.  He wanted a perfect solution.
Trying for perfection is full of pitfalls.  Thinking something or some project or someone must be perfect will lead to condemnation, and discouragement.  Then, one can think that they are worthless and have a sense of inadequacy.
From the example above we have been enriched by Henry Ford and other automakers who gave us the best car possible at that time.  And we have not been enriched by the man who was creating a game but never sold it.
Ecclesiastes 9:10 Whatever your hand finds to do, verily, do it with all your might; for there is no activity or planning or knowledge or wisdom in Sheol where you are going.x`
Proverbs 13:4 ESV
The soul of the sluggard craves and gets nothing, while the soul of the diligent is richly supplied.
Proverbs 14:23 ESV
In all toil there is profit, but mere talk tends only to poverty.
Perfectionism is about us trying to be perfect. The focus becomes us and not God.  It is about not relying on God but on our own self-efforts. This gets into humanism.  We need to rely on God to equip us for every good work.
Attitude
Just because we can't be perfect, it is not an excuse to be lazy or to excuse wrong behavior.  Excellence is an attitude that is carried out every hour of everyday.
Excellence is motivation to do our best, to be honest and to have integrity.
"The quality of a person's life is in direct proportion to their commitment
to excellence, regardless of their chosen field of endeavor"
Vincent Lombardi
Our thoughts, our thinking must be in line with the desired attitude we desire.
Philippians 4:8 ESV "Finally, brothers, whatever is true, whatever is honorable, whatever is just, whatever is pure, whatever is lovely, whatever is commendable, if there is any excellence, if there is anything worthy of praise, think about these things."
Philippians 3:8 ESV "Indeed, I count everything as loss because of the surpassing worth of knowing Christ Jesus my Lord. For his sake I have suffered the loss of all things and count them as rubbish, in order that I may gain Christ"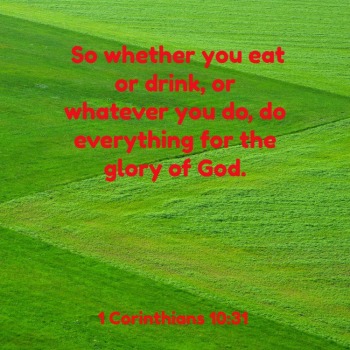 Here it is, even eating and drinking should be done with excellence.  What he is saying – every menial task is to be done with excellence.  It is an attitude that every little thing counts.
We are created in the image of God. God saw that the light he created was good and everything He created was good or excellent. Genesis never stated God said "That is OK, I can live with it."
We are called to have an attitude of excellence.  Let's stay in Genesis and look at Rebekah.   Abraham sends His servant to find a wife for son Isaac. His servant looks for a particular kind of woman who will go the extra mile. He knows he found the lady who should be the wife of Isaac by what she does.
Genesis 24:17-19 Then the servant ran to meet her and said, "Please give me a little water to drink from your jar." 18 She said, "Drink, my lord." And she quickly let down her jar upon her hand and gave him a drink. 19 When she had finished giving him a drink, she said, "I will draw water for your camels also, until they have finished drinking."
Then she did as she said she would.  This is the attitude of going the extra mile and giving energy and time to do something.
Sacrifice – It's not about you
Sacrifice is part of excellence. If a husband is watching the game and his wife pulls in with groceries and the kids, an excellent husband would quit watching the game and help carry the groceries in and help with the kids.
As parents we tell children that they must sacrifice by making a choice. A child is on a team and a friend asks her to go to the movies at the same time there is practice. To an excellent team mate the kid should choose practice instead of the movie since she made the commitment to the team.
Our work is a living sacrifice to God.  God wants us to honor Him with our thoughts, speech and actions.
Colossians 3:23-24 "And whatever you do, do it heartily, as to the Lord and not to men, 24 knowing that from the Lord you will receive the reward of the inheritance; for you serve the Lord Christ."
Sacrifice is a part of loving excellently.  No one has sacrificed more for us than God.  He gave us His son to die for us and to make us righteous. We are made in His character and to be excellent; we are to sacrifice.
This doesn't mean to spoil the children.  This does mean to encourage people in your life, correct them when appropriate, to show gratitude and to love them in all circumstances. It is not to withhold good when the ability and means are present.
Make the Choice To Be Light
Our choices become our attitudes.  Our thoughts become our actions. Make the choice to be excellent. To give energy, thought and power to whatever the task is at hand.
There is no menial task or small commitment.   It can all be a blessing to someone in need and even to ourselves as we help others and commit to excellence.
Excellence is a light that shines from the hill.
Matthew 5:14-16 14 "You are the light of the world. A city set on a hill cannot be hidden.15 Nor do people light a lamp and put it under a basket, but on a stand, and it gives light to all in the house. 16 In the same way, let your light shine before others, so that[b] they may see your good works and give glory to your Father who is in heaven.