Get Rich Quick
I don't know if there is a thing as "get rich quick".  Many people seem to have success overnight.  But if you take a look they probably had failures before the success.
Yes some people win the lottery.  Some of those same people have been gambling for years with nothing to show for it. We need the proper attitude and knowledge on how to handle money before we can keep it or before it causes us problems.
Build Skills
Personally I have had jobs that paid at the bottom and then my skills increased and I was paid more.  At one time I was in the top 25% of earners and I saved money. Those same savings let me quit and find a business I wanted to run.
I quit to start a business that would accommodate my lifestyle.  My wife has MS and I wanted to take better care of her so I started looking at andbusinesses I could run from my home.
I had many failures and I thought I spent money wisely on advisors and products and software.  But now that I look back, a wise investment in my future could have been accomplished other ways for less.  Some of the products and software I continue to use and I built some skills.
Skills are needed to accumulate wealth and skills are needed to handle wealth.  That is why many lottery winners are broke and maybe worse off after a couple of years have passed from the day they won.
Ecclesiastes 7:12 Wisdom is a shelter as money is a shelter, but the advantage of knowledge is this: Wisdom preserves those who have it.
The Promise
Most of the promise of the marketers of products and courses was "Get to your goal faster."  The promise of the product was to get on the first page of Google faster, build an email list faster, create a product faster, have more people come to your website, have more people buy when they get to the website.
They all had some value and some legitimacy. I found that there is no silver bullet in getting rich quick or having success overnight.  It takes time to build skill and it takes time to hone in on your specific offer with your personality showing through. People buy you before they buy the product.
All this to say it is good to be prosperous.  The reason for this post is to show what the Bible says about money and wealth.
Attitude About Money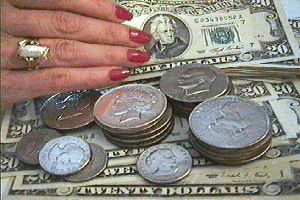 First I can't find a verse that being rich or having great amounts of money is bad in itself.  It is the attitude       about money that is evil. It is the way money is accumulated that is evil.
  Proverbs 15:27 He who is greedy for gain troubles his own house, but he who hates bribes will live.
  Mark 8:36 What good is it for a man to gain the whole world, yet forfeit his soul?
  1 Peter 5:2 Be shepherds of God's flock that is under your care, serving as overseers-not because you must, but because you are willing, as God wants you to be; not greedy for money, but eager to serve;
2 Chronicles 1:11-12 God said to Solomon, "Since this is your heart's desire and you have not asked for wealth, possessions or honor, nor for the death of your enemies, and since you have not asked for a long life but for wisdom and knowledge to govern my people over whom I have made you king, therefore wisdom and knowledge will be given you. And I will also give you wealth, possessions and honor, such as no king who was before you ever had and none after you will have."
From the above verse you can see that having the right heart, a heart that wants to serve, that wants to honor and glorify God is provided with more than one needs or wants.  This is so that one can be a light to the world and spread the ;love of Jesus to others.
Warnings About Getting Rich Quick
Proverbs 13:11 Dishonest money dwindles away, but whoever gathers money little by little makes it grow.
Proverbs 22:16 Whoever oppresses the poor for his own increase and whoever gives to the rich, both come to poverty.
Proverbs 12:22 The LORD detests lying lips, but he delights in people who are trustworthy.
James 5:4-6 Look! The wages you failed to pay the workers who mowed your fields are crying out against you. The cries of the harvesters have reached the ears of the Lord Almighty. You have lived on earth in luxury and self-indulgence. You have fattened yourselves in the day of slaughter. You have condemned and murdered the innocent one, who was not opposing you.
This one may seem like a get rich quick scheme.
1 Samuel 17:25"Look at him!" they said to each other. "Listen to his challenge! King Saul has promised to give a big reward to the man who kills him; the king will also give him his daughter to marry and will not require his father's family to pay taxes."
But David was a shepherd and had skills.  He killed a bears and a lions to save the sheep.  However David's trust was in the Lord. But we are here to see what the Bible says about wealth and getting rich quick.  David was interested in the reward.
The above are warnings about embezzlement, drug dealing, robbery, white collar crimes, stealing, cheating and lying. At first it may seem like it worked but in the end all will be lost and more.
How To Get Rich
Lessons from the Bible include working, they sometimes say the term working hard. I don't know if it is really hard work that makes you wealthy.  I have seen hardworking poor people and not so hard working wealthy people. To get rich is to work and develop money principles that will guide you on saving, giving and spending.
Proverbs 10:4 Lazy hands make for poverty,   but diligent hands bring wealth.
Proverbs 13:4 A sluggard's appetite is never filled, but the desires of the diligent are fully satisfied.
Colossians 3:23 And whatever you do, do it heartily, as to the Lord and not to men.
Proverbs 21:20 The wise store up choice food and olive oil, but fools gulp theirs down.
Proverbs 19:17 Whoever is generous to the poor lends to the Lord, and he will repay him for his deed.
Rich People in The Bible
Abraham -
And Abram was very rich in cattle, in silver, and in gold. Genesis 13:2
And the LORD hath blessed my master greatly; and he is become great: and he hath given him flocks, and herds, and silver, and gold, and menservants, and maidservants, and camels, and asses. Genesis 24:35
The scripture says, "Abraham believed God, and because of his faith God accepted him as righteous." Romans 4:3
David
And he died in a good old age, full of days, riches, and honour: and Solomon his son reigned in his stead. - 1 Chronicles 29:28
After removing Saul, he made David their king. God testified concerning him: 'I have found David son of Jesse, a man after my own heart; he will do everything I want him to do.' Acts 13:22
Hezekiah
Notwithstanding Hezekiah humbled himself for the pride of his heart, both he and the inhabitants of Jerusalem, so that the wrath of the LORD came not upon them in the days of Hezekiah. And Hezekiah had exceeding much riches and honour: and he made himself treasuries for silver, and for gold, and for precious stones, and for spices, and for shields, and for all manner of pleasant jewels; Storehouses also for the increase of corn, and wine, and oil; and stalls for all manner of beasts, and cotes for flocks. - 2 Chronicles 32:26-28
Boaz
Naomi had a relative named Boaz, a rich and influential man who belonged to the family of her husband Elimelech. 2 One day Ruth said to Naomi, "Let me go to the fields to gather the grain that the harvest workers leave. I am sure to find someone who will let me work with him."
Proverbs 31:10-12 How hard it is to find a capable wife! She is worth far more than jewels!  Her husband puts his confidence in her, and he will never be poor.  As long as she lives, she does him good and never harm.
Honor God
As Christians, whatever we do should honor God.  God has shown us grace and mercy.  He has given us more than we deserve and his perfect love casts out all fear.
Just a reminder.  Jesus has paid for all of our sins when He was crucified. We are righteous and perfect because of the blood of Jesus and because we believe He died for us and was raised from the dead.